Welcome back to Craft Your Passion Challenges!!
Before we get into this weeks challenge, I wanted to tell you all about a new challenge blog that will be opening on March 1st.
We are so excited to introduce the Unique Crafters Challenge Blog, a new contest site for all paper crafting projects including scrapbook pages, cards, stamping, Copic images, altered art, mini albums and all other crafts using paper.
It is also almost time to introduce you to our newest DT members. They have already been hard at work behind the scenes and can't wait to show you what they have done!!
Now, onto this week's challenge. This week we welcome 2 new sponsors to CYP...
Prize : 3 images of choice
&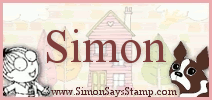 Prize : $20 Gift Certificate
Ready for our challenge?? It's a good one that the DT asked for. I don't think they knew what they were asking...LOL.
Use any 3 colors going vertical, horizontal or
diagonal.
Before I show you what our GDT and Dt have created for you, I would like to welcome a very Special Guest Designer today.
Lucas is an adorable, freckled faced 7 year old and is our DT member Christy's son. Lucas loves crafting with his mom so much that he made a card for our challenge this week and I would love to share it with you all.
Yellow, Red, Teal (Diagonal)
And now for our GDT...
And of course some inspiration from our amazing DT...